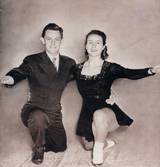 Carol Ann Peters (born 1932) was an American figure skater who competed in Ice dancing. Her skating partner was Danny Ryan. They competed in the first World championships for ice dance, winning the bronze medal in 1952.
The pair was coached by Lewis Elkin and Red Bainbridge. [1]
Ad blocker interference detected!
Wikia is a free-to-use site that makes money from advertising. We have a modified experience for viewers using ad blockers

Wikia is not accessible if you've made further modifications. Remove the custom ad blocker rule(s) and the page will load as expected.