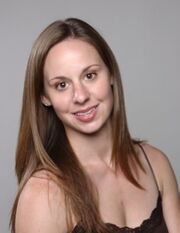 Colette Appel (born July 22, 1986 in Hartford, Connecticut) is an American Pair skater. With former partner Lee Harris, she is the 2002 U.S. junior champion. They placed 12th at the 2002 World Junior Figure Skating Championships.
Before teaming up with Harris, Appel competed with Adam Kaplan on the intermediate and novice levels. They were the 1998 U.S. pairs champions on the intermediate level and the 1999 U.S. novice silver medalists.
References
Edit
External links
Edit
Ad blocker interference detected!
Wikia is a free-to-use site that makes money from advertising. We have a modified experience for viewers using ad blockers

Wikia is not accessible if you've made further modifications. Remove the custom ad blocker rule(s) and the page will load as expected.