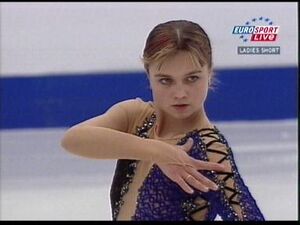 Daria Timoshenko (born August 1, 1980 in Moscow) is a Russian Azerbaijani Figure skater. Competing for Russia, she was the 1999 World Junior champion. She began competing for Azerbaijan in 2000, and was a 3-time national champion there.[1]
Timoshenko married ice dancer Igor Lukanin in 2000.[1]
Her coaches included Igor Rusakov and Marina Selitskaia. [2] She retired after the 2005-2006 competitive season.
For Russia
Edit
For Azerbaijan
Edit
References
Edit
Ad blocker interference detected!
Wikia is a free-to-use site that makes money from advertising. We have a modified experience for viewers using ad blockers

Wikia is not accessible if you've made further modifications. Remove the custom ad blocker rule(s) and the page will load as expected.