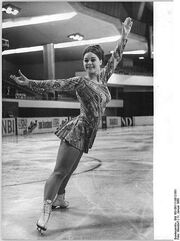 Gabriele ("Gaby") Seyfert (born November 23, 1948 in Chemnitz) is a former German figure skater.
Biography
Edit
She skated for the club SC Karl-Marx-Stadt and represented the GDR (East-Germany). Her coach was her mother Jutta Müller.
Seyfert was a long-time rival of Peggy Fleming (U.S.), but could never win against her.
She was one of the first world famous sport-stars of East Germany. In 1966, after two silver medals at the Europeans and the Worlds, she was voted as "The GDR female athlete of the year". In 1968 she became the first woman to land a clean triple loop.
In 1970 she ended her figure skating career. Her daughter Sheila was born in 1972. Unlike Peggy Fleming she could not skate for the ice revue Holiday on Ice. The offers made by Holiday on Ice were refused by East German authorities.
At first Seyfert worked as a coach. In this position she worked together with Anett Pötzsch. Due to the East German coach hierarchy Anett Pötzsch was transferred to the group of Jutta Müller. Totally frustrated about that Gabriele Seyfert quit coaching and studied languages at the university and worked as a professional translator. From 1985 to 1991 she led the ice ballet at the Friedrichstadtpalast in East Berlin, where she also skated occasionally. After this ice ballet was closed she became a customer support agent in a service industry business in Berlin. She lives now in Berlin-Karow.
figure skater
Edit
1964 – 19th place
1968 – 2nd place
1962 – 21st place
1965 – 5th place
1966 – 2nd place
1967 – 2nd place
1968 – 2nd place
1969 – 1st place
1970 – 1st place
European championships
Edit
1961 – 21st place
1962 – 12th place
1963 – 10th place
1965 – 5th place
1966 – 2nd place
1967 – 1st place
1968 – 2nd place
1969 – 1st place
1970 – 1st place
East-German Nationals
Edit
1961 – 1st place
1962 – 1st place
1963 – 1st place
1964 – 1st place
1965 – 1st place
1966 – 1st place
1967 – 1st place
1968 – 1st place
1969 – 1st place
1970 – 1st place
Seyfert, Gaby: Da muss noch was sein: Mein Leben - mehr als Pflicht und Kür, 1998, ISBN 3-360-00869-3
Seyfert, Gaby: Auf Wolke eins ist immer Platz. Single sucht Single, 2000, ISBN 3-360-00935-5
Ad blocker interference detected!
Wikia is a free-to-use site that makes money from advertising. We have a modified experience for viewers using ad blockers

Wikia is not accessible if you've made further modifications. Remove the custom ad blocker rule(s) and the page will load as expected.