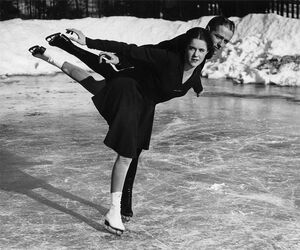 Joan Tozzer (married: Joan Tozzer Cave) (1921-2012)[1] was an American figure skater who competed in Ladies and Pair skating. Her pairs partner was Bernard Fox. She won the United States Figure Skating Championships in both singles and pairs in 1938, 1939, and 1940. Tozzer was the U.S. novice national champion in 1934 and the junior national champion in 1937. She was part of the 1940 United States Olympic team but did not compete when the Olympics were canceled due to World War II.
She retired after her first marriage in 1940, focusing her energy on family and philanthropy.[2]
She was inducted into the United States Figure Skating Hall of Fame in 1997.
Ladies Singles
Edit
Pairs (with Fox)
Edit
References
Edit
Ad blocker interference detected!
Wikia is a free-to-use site that makes money from advertising. We have a modified experience for viewers using ad blockers

Wikia is not accessible if you've made further modifications. Remove the custom ad blocker rule(s) and the page will load as expected.