John Luther Zimmerman IV (born November 26, 1973 in Birmingham, Alabama) is an American professional Figure skater who tours with Stars On Ice with his partner Kyoko Ina. He has two older sisters and is of German and Norwegian descent.
Biography
Edit
John Zimmerman started skating at the age of 3, at a mall. He briefly partnered with Brie Teaboldt for the 1994/1995 season. Then he paired with Stephanie Stiegler from 1995 through 1998, and won a US National Bronze medal with her in 1997 under the coaching of Peter Oppegard.
In 1998 they separated, and he and Kyoko Ina formed a skating relationship, his most successful one to date. They train under Tamara Moskvina and Igor Moskvin in Hackensack, New Jersey. They turned Professional, joining Stars On Ice.
Zimmerman competed in the January 2006 FOX television program "Skating with Celebrities", where he partnered with FOX broadcaster Jillian Barberie. They finished in second place.
He covered figure skating at the 2006 Winter Olympics, being featured as Yahoo's special guest expert correspondent on the Games in Turin.
Zimmerman started a modeling career, and has been seen in photo shoots for Barneys New York and various designers. John and his Italian wife, Silvia Fontana, appeared on Queer Eye for the Straight Guy in 2004, and have made appearances for Am/FAR, amongst other charities. They recently bought a home in New Jersey, which they share with their three cats. In 2003, an access bridge at his Alma mater, Homewood High School, was named after him. When he is not busy modeling or touring with Stars On Ice, he takes business courses at Bergen Community College.
Competitive History
Edit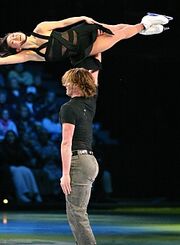 (with Kyoko Ina)
| Event | 1998-1999 | 1999-2000 | 2000-2001 | 2001-2002 |
| --- | --- | --- | --- | --- |
| Winter Olympic Games | | | | 5th |
| World Championships | 9th | 7th | 7th | 3rd |
| Four Continents Championships | | 2nd | 3rd | |
| U.S. Championships | 2nd | 1st | 1st | 1st |
| Grand Prix Final | 5th | | | 4th |
| Trophee Lalique | 2nd | 4th | 3rd | 2nd |
| Skate America | 5th | 5th | 4th | 2nd |
| Sparkassen Cup on Ice | | | | 2nd |
| Cup of Russia | 3rd | | 4th | |
| Skate Canada | | 2nd | | |
(with Stephanie Stiegler)
(with Brie Teaboldt)
References
Edit
External links
Edit
Ad blocker interference detected!
Wikia is a free-to-use site that makes money from advertising. We have a modified experience for viewers using ad blockers

Wikia is not accessible if you've made further modifications. Remove the custom ad blocker rule(s) and the page will load as expected.