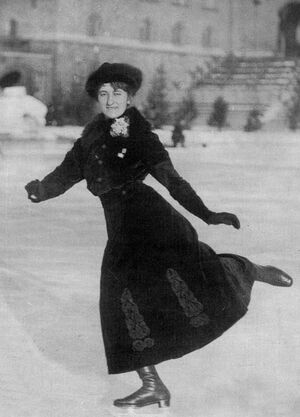 Magda Julin born Mauroy, (July 24, 1894 in France - December 21, 1990 in Stockholm, Sweden) was a Swedish figure skater and 1920 Olympic champion in the ladies' singles event.
Julin was a daughter of the French music producer Edouard Mauroy. The family moved to Sweden when Julin was 7 years old. She only participated once in World Championships and came in at 6th place. She was 3 months pregnant when she competed at the 1920 Winter Olympics. She also won the Swedish championships three times and the Nordic Championships twice.
Magda Julin had two sons and spent her last years of life in an old age pensionare home in Stockholm.
She was invited to participate in an inauguration of an ice rink in Oestersund/Sweden in autumn 1990.
Competitive highlights
Edit
Olympic Games
Edit
World Championships
Edit
External links
Edit
Ad blocker interference detected!
Wikia is a free-to-use site that makes money from advertising. We have a modified experience for viewers using ad blockers

Wikia is not accessible if you've made further modifications. Remove the custom ad blocker rule(s) and the page will load as expected.